শিক্ষা
Drug Addiction paragraph for class 12 & 9-10, 500, 300, 150 words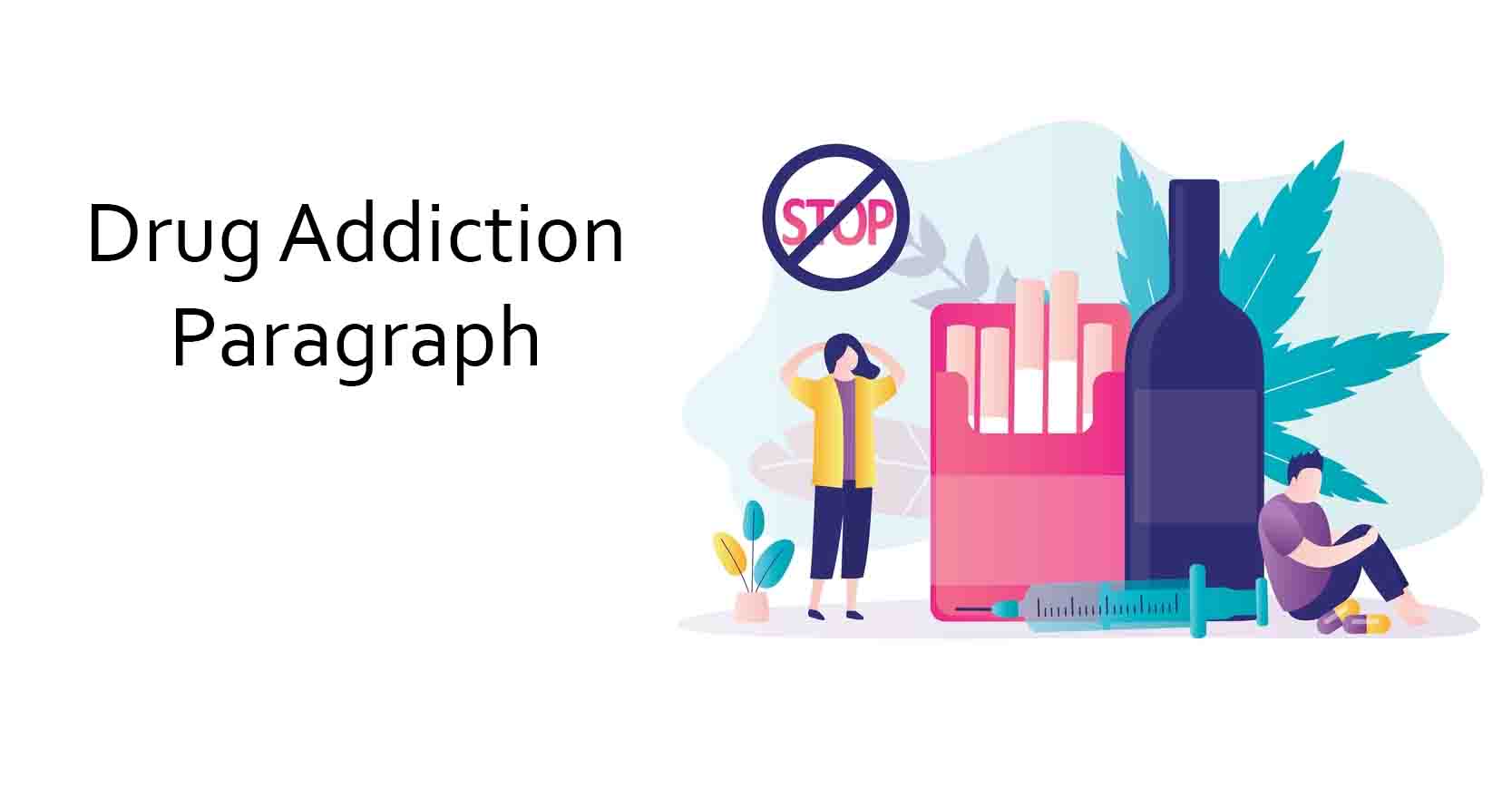 Drug addiction paragraph is a very common for class 12 or hsc exam and class 9-10 or ssc exam. Drug addiction is also a curse for the next generation. So it is high to think about it seriously.
Drug Addiction Paragraph for Class 12
Drug Addiction Paragraph 300 Words
Drug addiction is becoming a terror concern to think about in this present world. It mainly indicates the addition of taking drugs that are simply off-prescribed and causes damage to a person mentally and physically. It brings a dark and hellish life to a normal person in the place of a healthy life. This drug addiction is not only a problem in our country but also it's a global issue. Its damages have been observed from personal life to social life, from family to nationwide. The commonly available drugs are alcohol, ganja, dadi, beer, heroin, phenytoin injection, yaba, etc. Addiction rises from taking drugs for refraining from any kind of mental trauma, familial problems, inferior complicity, pain from love, and some other causes. Many people take drugs to get relief from pain, but taking drugs makes them dependent on them which leads to another big pain in their life. A section of drug dealers attracts addicts and turns them into regular users. This addiction hampers different body organs, mental disturbance and the ultimate result is death. When the person is strongly addicted, the dealer asks for money for the drugs. But here, as the addicts are mostly the young generation, they cannot afford the money and commit several crimes like stealing money from home, pick-pocketing, involving in different illegal activities, etc. Addicts get out of control and get attached to the crime world. Serially, he commits various severe crimes such as rapes, murder, unauthorized transaction of goods, money laundering, and different illegal activities. He forgets to respect his family, respect elders, and the affection of his juniors, and only he loves the smell of drugs. This way, the addicted person doesn't harm only himself but also the family and society. Currently, there are no accurate statistics on drug addicts, but it is not difficult to understand that its deadly addiction is increasing day by day in our national arena. According to a 2012 report by the United Nations, the annual drug trade around the world is worth 32 billion USD. And also our country Bangladesh is being used as a transaction point for drug dealers. Most drug addicts are transformed through traps and friend circles. It's a matter of concern that most of the family members of the addicts don't come forward to help them with proper guidelines and treatment. Rather they continuously separate them easily and this doesn't help society. Getting separated from their family, they are completely involved in criminal activities. There is no alternative to creating social awareness against this damaging addiction. And it should be started by the family. Parents have to maintain a keen observation regarding the child's friend, whom he is mixing with, change in behavior, and teach him the bad consequences of taking drugs. Similarly, stopping drug transactions, appointing skilled personnel at the border, using media for creating mass awareness, and enhancing the security-related organization are the stapes to be done by the government. And we have to remember always to hate the drug addiction, not the addicts.
Drug Addiction Paragraph for Class 9-10
The addiction to any harmful off-prescribed object that damages a person physically and mentally is called drug addiction. Heroine, ganja, yaba, fensidile, etc are common drugs easily available. A person can be addicted to drugs for different causes like too much stress, past trauma, mental imbalance, previous family history, failure in love, etc. The easy availability of drugs across villages and towns and the bad company ultimately lead to addiction. Sometimes the young also take drugs showing himself superior to others. Drugs usually make people relieved from different pain and trauma and make the person feel better, but it's just for a short time. After that, it presents us with mental instability like depression, anxiety, and hallucination and comes with a lot of health problems, and damages our organs. It affects a person's brain and behavior too much that the person becomes unable to control the use of drugs. Gradually losing control over himself, he takes higher doses for satisfaction. The final result is death. For buying drugs, a good amount of money is required. For that, the addicts start to engage in different criminal activities and illegal activities. They forget how to respect the elders of society and love their family members. So, at one time they lose bonding with their family and society and dip down into deep darkness. And if we come up with them and help them cure, they may live a normal and sound life again. So, effective rehabilitation centers are to be established and they are to be mentally encouraged to give up the drugs. Besides, we have to be aware of this dangerous social disease and also we have to make aware others. By standing beside the higher government, we can build a society free of killer drug addiction.