Makeup Looks
Guide to Eyelash Extensions: Process, Pros & Cons and Cautions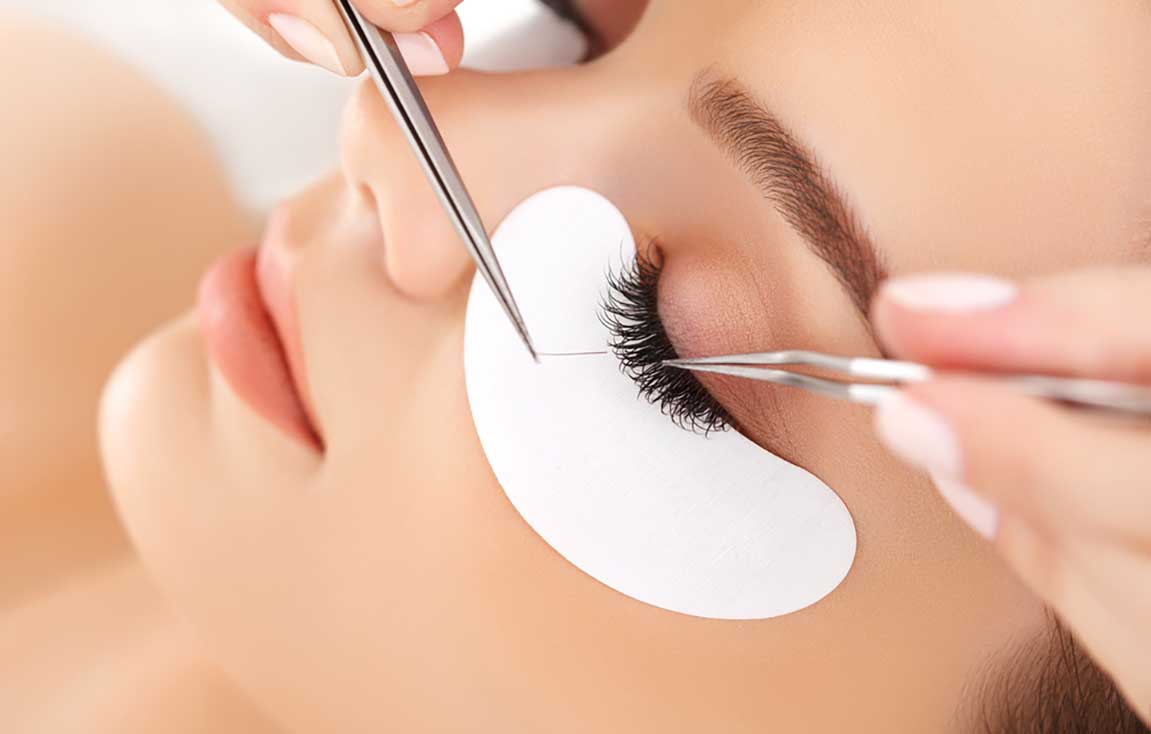 A large part of eye makeup depends on the eyelashes. There are various types of loose eyelash extensions available in the market. However, many people do not feel comfortable using them due to fear of fitting and less durability. Those who are not used to applying eyelashes can get lash extensions to avoid the hassle. The primary materials of eyelash extensions are synthetic, faux mink, or artificial eyelashes made of silk fiber. It is placed on the eyelids with semi-permanent glue. False eyelashes are glued to the eyelid skin.
However, eyelash extensions are placed on your lashes. So it gives a natural look without damaging the skin. Eyelash extensions make the lashes look longer, thicker, and thicker. Extensions are generally of three types: mink, silk, and synthetic. The original mink lashes are almost universally banned as they are made from animal fur. However, faux mink lashes are man-made. It is in high demand as it looks like real mink lashes. Also, it gives a more natural look than the other two types. These lashes are light in weight and do not cause eye discomfort.
Silk lashes are lighter than synthetic ones give a natural look with a slight sheen and make lashes look longer. It is a perfect extension for bridal wear. Synthetic lashes are made of polished acrylic material. So they are more shiny, thick, and dramatic than the other two types. These lashes are perfect for those who prefer a bolder look.
Eyelashes Extensions Process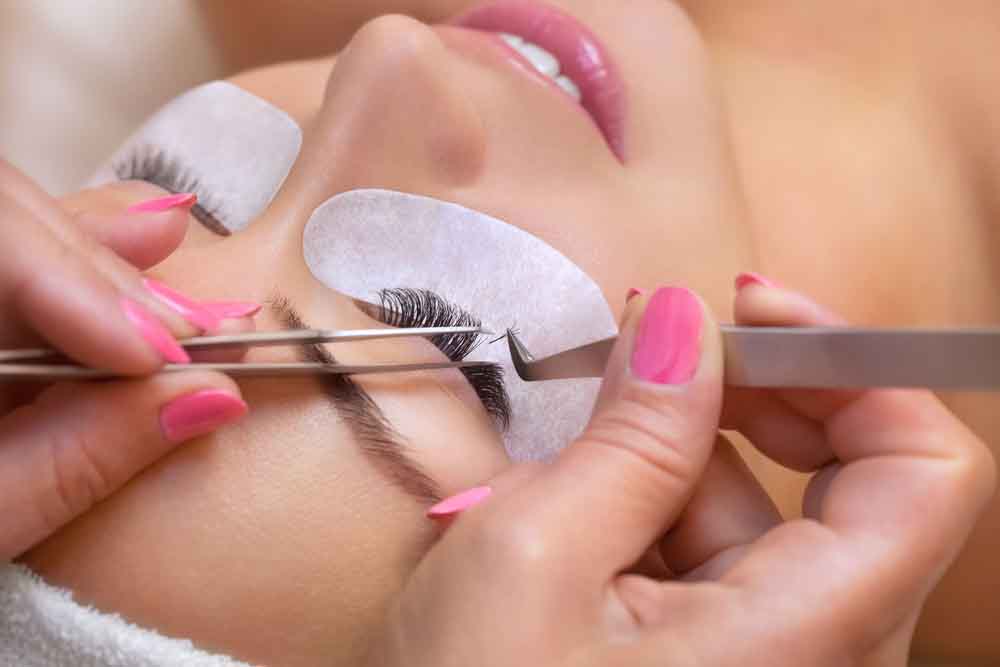 Eyelashes play a big part in modern eye makeup. Those who are not used to applying eyelashes can get the help of lash extensions to avoid trouble. There is no fear of harm. Beautiful, thick, curly lashes will instantly make your eyes pop. Let's learn the methods of using lash extension.
Step 1: First, the gel patch is applied to the outer part of the eyelid. They look like white stickers. This patch is used to keep the lashes in place.
Step 2: If there is any makeup on the eyes, it is completely removed with the help of an oil-free remover. Now the upper and lower lashes are brushed once.
Step 3: According to the size and length of the natural lashes on the eyelids. Artificial lashes made of silk are placed on top of each natural lash. A special type of lash glue is used for this, which is medically tested and carcinogen free. One on each natural lash for a classic look, artificial lashes are applied. A gap of 1 mm is kept between each lash to look natural. If thicker eyelashes are desired, multiple lashes are used on one lash. It all depends on one's likes and dislikes.
Step 4: Once all the lashes are applied, the lashes are brushed once more. Sealer and lash conditioner are then applied to make the extensions last longer. After that, the lash extension is made by curling the lash with the help of the lash curler.
Step 5: Finally, the gel patches are opened, and the eyes are gently massaged. It relaxes the eye tissue.
How Long Eyelash extensions last for?
Eyelash extensions usually last six to seven weeks once done. Sometimes it is better to refill after two or three weeks. In Bangladesh, we have to pay 6 to 14 thousand takas. In the USA, they need to pay $120 to $300, depending on the type of lash extension. So it is better to do it before any festival or wedding ceremony instead of doing it regularly.
Things to be Remembered about Eyelash Extensions
1. It is not recommended to apply eye drops for at least 6 hours after eyelash extensions.
2. Eyelash extensions must keep your lashes away from any oil, like makeup remover or oil-based products.
3. Applying artificial lashes does not require the use of mascara. So the more minimal the eye makeup can be, the better.
4. Brush your lashes with a spoolie before waking up and going to bed.
5. Avoid rubbing your eyes unnecessarily.
6. Doing so may irritate if allergic. Better not to do that.
7. This method is quite expensive and time-consuming.
8. Since it is placed on natural lashes with glue, it can damage your natural lashes.
Eyelash Extensions pros
1. Eyelash extensions will give a bold natural look to your eyes.
2. Eyelash extensions can significantly eliminate eye decoring time by speeding up your makeup application time.
3. Eyelash extensions help to customize the length, volume, fullness, or simply to something that highlights and draws attention to the shape of your eyes. They are more suited to your particular face characteristics as a result.
4. Eyelash extensions help avoid mascara mishaps.
Eyelash extensions cons
1. Eyelash extensions are costly.
2. Eyelash extensions may damage the natural lashes.
3. Using eyelash extensions for the long term may cause permanent lash fallout.
4. Sometimes eyelash extension may cause eye infections.
5. It can be pretty uncomfortable at the time to bed, shower, and cry.
Eyelash Extensions vs. False Lashes
Eyelash extensions
Your lash line is visible when you use lash extensions, which gives them a more natural appearance. They can be customized more than false lashes can. The individual lashes that make up the extensions are available in various lengths and curves. They may provide infinite appearances depending on where they are positioned along the lash line.
Eyelash extensions are a superb technique to give your eyes more lashes. They remain in place for 4-6 weeks before beginning to fall out along with your natural lashes. Since the adhesive is practically permanent, need skills to remove them.
It's a one-time treatment that keeps your appearance excellent without requiring reapplication. The price of eyelash extensions depends on the salon you choose. A brand-new pair of lash extensions should cost between $200 and $500. Refills cost less and are completed 3–4 weeks after purchasing a full set. They often cost $50 to $100.
False Lashes
Compared to eyelash extensions, false eyelashes are less flexible. It's undoubtedly feasible to choose a look that doesn't suit the shape of your eyes. You might need to cut the lashes if the band is longer than your natural lash line. False eyelashes are only good for one night. They are applied together with your makeup, and when you wash them off at night, they are also removed.
Though Some companies even assert that their eyelashes can last up to 25 applications, lashes get shabby after 3-5 wears. The cost of false lashes varies considerably. There are inexpensive drugstore alternatives that range in price from $3 to $7 a pair. Luxury companies charge $20 to $25 for a pair of lashes at the upper end of the price range.
Can Eyelash Extensions Ruin the Natural Lashes?
It seems like a beauty disaster to lose precious lashes. There are three stages in an eyelash's natural life cycle development, transition, and resting phases. The lash sheds and is replaced by a fresh one after the conclusion of the resting phase. The cycle resumes when you obtain eyelash extensions.
Your extensions will fall out in the same process as your natural lashes since each lash extension is attached to a real lash. Lash extensions shouldn't ever damage your natural lashes.
Actually, poor application of extensions causes harm to natural lashes. Additionally, there are a few habits that need to remember to maintain the beauty and health of your natural lashes –
1. Avoid pulling or rubbing your eyelash extensions. The natural lashes underneath may become stressed or even harmed as a result. Additionally, the skin's natural oils will cause the glue to break down, reducing the longevity of your gorgeous lashes.
2. Before choosing a lash salon, do some research. Make sure a person is competent before allowing them to come close to your eyes with tweezers.
3. You won't need to be concerned about damaging your natural lashes because a qualified lash specialist will apply for each extension. Need suggestions about lash placements? On our site, you can read about the best lash salons in all US cities.
4. Choose the proper glue. The condition of natural lashes might vary depending on the type of lash adhesive applied.
In conclusion, If you are a client, express your concerns instantly before starting an extension. Tell your lash technician if there are any lash glues that you are allergic to. Tell your lash extensions technician as soon as you experience pain or discomfort when applying your eyelashes. Eye irritation causes a lot of rubbing and straining, which may harm natural lashes.
Also Read: