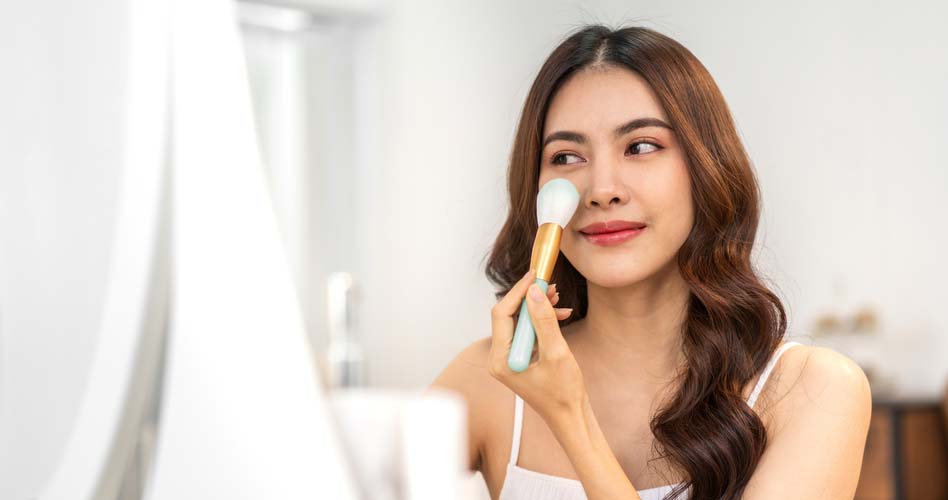 Before going deep into the natural makeup look or any makeup look, let's find out what is natural makeup and how we are going to define them. Basically, makeup is various types of cosmetics items used by almost all gender to beautify the appearance of the user. It's an art that suits all types of skin tones, ages & body types.
What is Natural Makeup Look?
The natural makeup look is almost your skin but yet more clear, posh, toned up & beautiful. Natural makeup looks or no-makeup makeup looks are admiring looks that are globally accepted. It's a daily worn which suits almost every outfit whether you're office going, college going or everyday lifestyle. There are no specific rules for a no-makeup makeup look. It's totally depending on the preference or individual's choice.
Every skin type is different, and every human nature, behavior, and choice is different. That's why each natural makeup look is sort of different but the technics are almost the same. The basic technic is to create a soft and subtle look, sometimes people go for a soft glam look. That's why we love to call natural makeup look actually 'people's preference look' for daily wear.
Things that you Need for Natural Makeup Look
· Foundation.
· Concealer.
· Beauty Blending Sponge.
· Brushes
· Translucent powder.
· Bronzer.
· Blusher.
· Eyebrow pencil.
· Light and natural eye shadow.
· Eyelash curler
· Mascara
· Nude lipstick
Steps to get a Natural-Looking Look:
1. Prep Your Skin
Consider your face skin as a canvas. If you get perfectly prepped skin what else do you need to draw over this!! That's why skin prep should be the first thing you can consider before starting any makeup look.
It's an open secret to get a perfect base while doing makeup. You need to use some basic skin cares like serums, essences, moisturizer according to your skin type & thus your skin will be ready for the next step.
2. Use Primer
Using a primer is essential for all skin types but it's extremely important for oily skin to control the oil production after makeup. If you have small or large pores, the primer will help you to blemish them. Thus, your skin will look even.
3. Conceal Under the Eye and Problematic Areas
We all have dark circles, textures, and uneven skin. If you feel like covering them, if you feel more comfortable than usual then you can definitely go for this. You can conceal those areas with concealer. Choose a shade that is slightly darker than your skin tone after that apply and blend them gently.
4. Use Foundation
Using foundation is your choice when It's about natural makeup look. You can ignore this & instead of foundation; you can use any BB or CC cream which matches your skin tone. If you want to use foundation then use it as dot formulation. Then blend it beautifully with brush or beauty blenders. When you're blending keep it gentle and soft.
5. Set the Foundation
Without setting your foundation the base will look uneven. You can use any powder to set your foundation. There are different types of powder available for example- translucent powder, banana powder, loose powder, pressed compact powder, etc. You can choose one to two types of powder at a time according to your need.
6. Highlight Under the Eye with Bright Concealer
After concealing the under-eye, you need to highlight them a little. But again, it's your preference which type of coverage you want at that point. For highlighting under the eye all you need is to choose a shade that is at least one or two shades lighter than your skin tone. Then apply the concealer, use the dot formulation, wait till it set, at least for 10 seconds then blend them gently.
7. Use Blush and Bronzer
There is a beautiful hack for a natural makeup look. As you keep your whole face simple and subtle you will need tones of blushes to look more fresh and glowy. Add a little bronzer if you use foundation on top.
8. Contour Nose
Contouring your nose, face, and chin is not that important but yet it's your choice. If you do contour, it will add a dimension to your face.
9. Create Eye Base and Eye Makeup Look
Use a little bit of concealer in your eyelid, and blend it well. Use a simple fresh color very close to your skin tone and blend it properly.
10. Curl Lashes and Use Tones of Mascara
Curling lashes is again a personal choice but it looks fresher, and more youthful after using the mascara. Your eyes will pop up and look bigger than usual.
11. Use a Nude Lip Shade
For a natural makeup look, use pink, brown, or any nude color lip shade. It will simply enhance your lip color.
By following these easiest steps, you can get a natural and glowy look. Before using makeup items, be careful that they may not be over-applied.
Last Words
The natural makeup look is your go-to makeup look. This is universally popular. As the world is large, there are different skin tones people who looked very beautiful with the natural makeup look.
No matter which product you're using, which brand or makeup item you're using, doesn't matter! When you know what your go-to makeup looks like & how you fill confident.
Also Read: