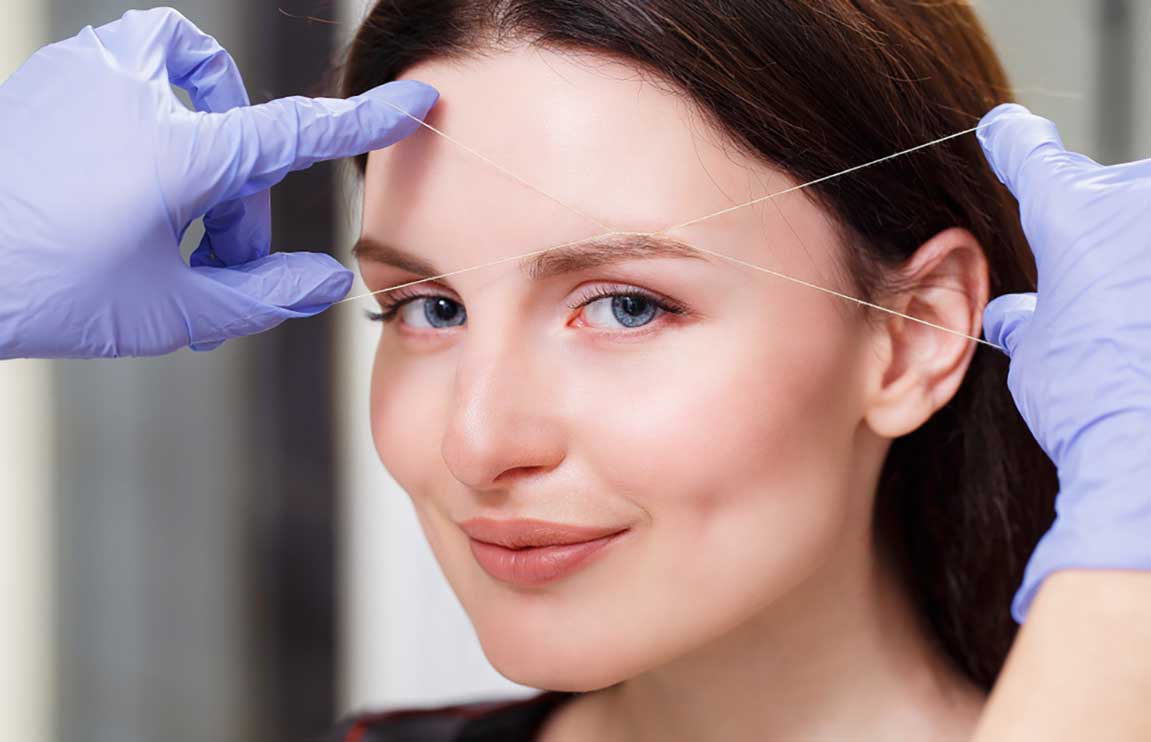 The eyes cover a large part of the outfit. And the makeup of the eyes is complete only if the eyebrows are beautiful. Many people think that raising eyebrows in one way is enough, but things are not like that. Instead, 'eyebrow threading' should be done consciously, with time, and from a good place.
Stylist young women often change their hairstyles and outfits to break the monotony of style. But why only the haircut? If you want to bring innovation to the appearance, the shape of the eyebrows can also be changed. But it must fit the face. The face appearance changes can be adjusted based on the eyebrow threading. Maybe sometimes angry, sometimes more flexible. The beauty of the face depends a lot on the shape of the eyebrows. Now it is more popular to have thick eyebrows than thin ones. While thin brows were once the trend, now the trend of thick brows is back.
Thick and bushy brows have had a distinct appeal in all ages and eras, which they still have. A slight change in the shape of the eyebrows can change the whole look. Therefore, it is good to know that even if you keep your eyebrows thick, they will look beautiful if you thread them. Long-faced girls with round-shaped eyebrows and those with round-shaped faces are more suited to 'V'-shaped eyebrows.
Women with thick and dark eyebrows do not need an eyebrow shaper. After removing the makeup, it is enough to brush it lightly with a brush. Those with small foreheads and slightly high brows look best if they are not too thick.
On the other hand, people with short eyelids don't like the look of thick eyebrows. If those who have double eyebrows want to keep them wide, then the middle part of the two eyebrows should be plucked and thoroughly cleaned. The shape of the eyebrows should be determined by understanding the eye shape. Those with relatively small eyes should make their eyebrows thin. Also, those whose eyes are a bit big and drawn should pack their eyebrows thickly.
However, this thick expression is compatible with the face. It is better to soak the thread with which the eyebrows are plucked in water mixed with Savlon or Dettol. After eyebrow plucking, rubbing lightly with ice will reduce the swelling. After massaging with a light cream, blood circulation is normal.
Process of Eyebrow Threading
The "eyebrow threading" procedure involves using a piece of thread to trim eyebrow hair. The thread is often made of cotton and is only relatively thin to provide a better grip on each strand. Epilation is the process of threading the eyebrows. Instead of clipping the hair, the procedure eliminates it all down to the root.
At first, thoroughly clean the skin beneath and around the brows with a mild cleanser or an alcohol wipe. A technician will twist a strand of thread while holding it between their hands and occasionally while holding one end between their teeth. They will then quickly move the thread while holding the end of the twist above the hair portion you want to have removed. Hairs become caught in the twisting process and are lifted out entirely from between the threads. With a skilled technician, the procedure just only ten minutes to complete.
Cost of Eyebrow Threading
The Eyebrow threading cost is very worthwhile according to price & service. You may anticipate spending between 50 -100 taka in Bangladesh & In the USA, it will be $10 and $40 for the service, which is a small sum to pay for highly precise eyebrows. The cost may vary depending on the salon you choose and the price of eyebrow threading service in your area.
How to do Eyebrow Threading at home
You are going to a party, But your eyebrows are not in the right shape, and you may not have enough time to go to the parlor. No problem; you can now do eyebrow plucking at home if you want. Not by waxing or using tweezers. Instead, you can use yarn. But this requires some skill. Let's know how to do eyebrow plucking at home with thread.
First, Take a mirror & draw the shape you want to pluck on your eyebrows with a pencil. Then brush the eyebrows up or down. It is better to use an eyebrow brush.
Take one and a half feet of yarn, cut it, and knot the ends. Twist the thread and make an 'X' shape with both hands. Twist it ten times. Due to this twist, the patchy part that will be formed in the thread will play a vital role in the eyebrow thread.
Increase the gap between the fingers on one side of the patched area and bring the fingers closed on the other side. It will cause the patches to come forward.
By twisting those patches, the unwanted hairs of your eyebrows will come out. Continue to raise the eyebrows the same way with the thread until the eyebrows come into the drawn shape.
In practice, The more you practice, the faster you will master this simple eyebrow-threading task.
Tips for not Appearing Rash after Eyebrow Threading
Eyebrow also needs to have a specific shape, so many people thread their eyebrows. Unfortunately, many people experience pain during eyebrow threading. Rashes and pimples appear on the face. But after plucking your eyebrows, if you follow a few things, this will not happen anymore.
1. Thread your eyebrows from the parlor and wash your face with cold water after coming back home.
2. After that, lightly rub the ice all over the face. It will take comfort. Again, the risk of acne and rash will also decrease.
3. Apply a cold gel all over the face after washing the face well. You can also rub it on your mouth if you have cucumber at home.
4. Many people have rose water in their homes. If your face gets irritated after plucking your eyebrows, you can apply rose water. You will benefit.
5. It is best if you use a moisturizer. Not just at that moment. Use a good moisturizer for the next two days. It will take care of the skin. The rash will not come out again.
How to Increase the Volume of Your Eyebrow to Get Perfect Eyebrow Threading
If not kept properly and in the right shape, the eyebrows become inconsistent with the whole look. No matter how much beauty is practiced, the entire face look is wasted if the eyebrows are not attractive. If you take a little care at home, this problem will be solved very quickly.
Castor Oil: It has a unique chemical composition rarely found in other seeds and oils. Apply castor oil on your finger, gently massage it on the eyebrows, and leave it for some time. Then, wash after 30 minutes with lukewarm water and face cleanser. You will get good results if you continue this method for a few consecutive days. But if it burns, it should be stopped.
Coconut-lemon mixture: Mix one-fourth of coconut oil with peeled and thinly sliced ​​lemon slices in a clean container overnight. You can apply this mixture on a cotton pad at night before going to bed. But never in sunlight.
Onion: Its astringent properties help in growing eyebrows much faster. Squeeze the onion juice, apply it under the eyebrows with a cotton ball, and let it dry. Apply a few more coats when dry.
Fenugreek: You can apply a paste of a few fenugreek seeds. In this case, make a paste by mixing almond oil with fenugreek, which will moisturize the skin. Apply this mixture at night before sleeping and then wash it off in the morning.
Milk: Milk is something that has no end of nutrients and benefits. Dip a cotton ball in milk and massage the eyebrows. Its natural ingredients reach the root of the eyebrow hair to nourish it and help it grow faster.
Aloe vera: Aloe vera or aloe vera juice will help grow eyebrows if the eyebrows are thinning due to excessive plucking. Squeeze aloe vera leaves and apply their juice on the eyebrows. Its herbal effect helps to grow eyebrows.
Try the above methods and see which works best for your eyebrow growth. Because everyone's skin is different, each product will have different effects.
Pros & cons of Eyebrow Threading
Pros of Eyebrow Threading
Simple process: The process is very simple, and with practice, entire hair lines can be removed in seconds. There's no waiting for the wax to cool or for depilatory creams to dissolve the hair.
Less Painful: Eyebrow threading is less painful than many expect, especially when waxing or tweezing.
Easy to Shape the Eyebrow: There is very little possibility for pain receptors or your brain to respond in between removals when you use a thread to remove numerous hairs without anticipation.
Cost-Effective: Eyebrow threading is easy to maintain & cost-effective because you only need to visit a professional every 4-6 weeks.
Cons of Eyebrow threading
Skin Infection: The facial skin is already soft and supple. And the skin around the eyes is very soft. So while eyebrow thread at the parlor, the eyebrow hairs are lifted with the help of thread and sufficient pressure. You can definitely feel the pain. And after that, the surrounding becomes often infected if not done properly. Various powders or creams are applied before and after eyebrows. If these products are not good, they are harmful to the eyes. So good products and skilled people are needed.
Eye Infection & Damage: If excess water falls from the eyes while threading the eyebrows, it means that your eyes cannot take it. The harmful products used during eyebrow threading can cause eye infections and vision problems. Wash your eyes thoroughly after doing your eyebrow threading. And if this type of eye problem is severe, definitely consult a doctor.
Skin Allergy: Everyone gets a little red spot after threading their eyebrows. After a while, it is fine again. There is nothing to be afraid of. But if it is more than that, you must find out that you are allergic to it. Suppose the area becomes very swollen and red after eyebrow threading or breaks out like a small rash, which may be very itchy. Of course, it varies from person to person. Not everyone has this allergy. However, consult a beauty expert.
Is Eyebrow threading worthy of maintaining Eyebrows shape?
Some people find eyebrow threading to be well worth the expense. It is an amazing option for those who want to maintain a precise and tidy appearance. It's also beneficial to those who choose sanitary, straightforward procedures for their beauty treatments. The practice of threading eyebrows has been around for a while. If you're not sure if threading is suitable for you, consider this
1. Do I look for something that is less irritating to my skin?
2. Do I look for something that is long-lasting?
3. Do I look for something that is quick and simple?
4. Do I look for something that is cost-effective?
If the answers to these questions are positive, eyebrow threading is a wise decision. It's worth a shot, especially if you don't mind a little discomfort in exchange for great outcomes.
Take Care of Some Aspects while Eyebrow Threading
By now must be very angry to see this article. Hey, I'm not saying to ditch eyebrow threading for these issues. But you have to understand yourself. Do it but not too much.
Those who do an Eyebrow thread monthly don't need to do it regularly. It is advisable to keep a gap of about two months a year. And always do it from a professional expert, which is not for him. It has less chance of damage.
Apart from these, there is no possibility of any damage from eyebrow threading. But it is better to be careful about your beauty and health. Isn't that so?
Also Read: