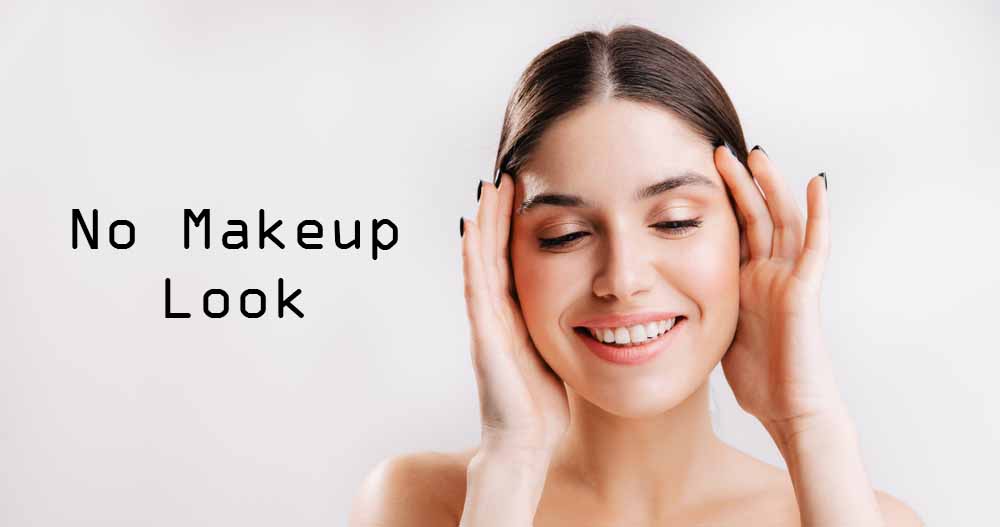 At present, Glitzy dresses, and heavy makeup, are all that is over. These days, the no makeup look has fashionistas smitten. People in the glamorous world are getting married with a no makeup look. But what exactly is this no makeup look? Some girls think there is a need for hard work when the makeup is not understandable. This no-makeup look goes everywhere, whether small events, college, or office. No makeup look goes well with all kinds of clothes. It will look completely natural again. Even those who don't know the ins and outs of makeup can easily create this no-makeup look at home.
Want to know how to get this no-makeup look? If you want to know, read our article for detailed information, tips & tricks about getting a no-makeup look.
Use a bright concealer always
Always use a bright concealer for a no-makeup makeup look on the face. It must be one shade lighter than the foundation. Concealer is usually used by those who make triangles under the eyes. Also, apply it to different areas of the skin. But pull it under the eyes quite a bit. It will help you get a sharp look.
Use of a light foundation
If you apply foundation directly on the face, it may seem too much. And that's why it might look unnatural. In that case, mix fifty-fifty with cream or moisturizer before applying foundation. Take the same amount of cream or moisturizer as you would take foundation. As a result, you will see that the foundation has become much lighter, and your look will be natural every day. In addition, it will adapt to your facial skin very quickly.
Do a perfect contouring
You can do contouring after applying the foundation. You can use more contouring if you are going to a wedding or a photoshoot. It will help to reduce the excessive shine of your skin. Many times it is seen many people apply contouring on the forehead to make the forehead look more petite.
Use of perfect blush
After contouring, apply blush. The color of blush you choose will depend on your complexion, skin tone, and personal preference. There is no reason to worry if the amount of blushing is excessive, and you can reduce it through powder.
Use of Eyeshadow
It is better not to use eyeshadow in the no-makeup look. But if you must apply eyeshadow to cover the corner of the eye, then choose an eyeshadow with a light brown or light golden touch.
Use of eyelash curler
Before using eyelashes, you can heat them with a hair dryer. As a result, the eyelashes will look thicker and more prominent for a long time. Then apply the mascara nicely. It will look that your eyelids will are talking.
Use Lip tint instead of lipstick
For a no-makeup look, use lip tint instead of lipstick. Your natural look will remain intact. And stay for a long time. When applying, apply from the inside of the lips. Then use lip balm over it.
Use body oil to look more attractive
After completing everything, you can apply body oil as a final touch. Apply body oil well on hands, shoulders, neck, and neck. Naturally, those places become attractive. Then you can use highlights in that places with a light hand. You can apply a highlighter, especially on two beautiful crushing bones &complete it. Then don't forget to use perfume when going out.
Makeup Tutorials to Create a No Makeup Makeup Look
No makeup does not mean not using makeup. It means that makeup will be done but will not be understood. No makeup look means revealing your true self through makeup. There was a time when makeup used to mean striking looks. Nowadays, this trend is no longer popular. You can achieve the no-makeup look with just a few ingredients. To create a no makeup makeup look, you will need –
1. Flawless Nude Foundation (Choose according to skin tone, 40 and 30 shades can be used for brighter skin)
2. Maybelline Concealer
3. Sephora Smoothie and Brightening Concealer
4. Masquerade
5. Eyelash curler
6. Eye pencil
7. Chocolate bronze powder
8. Pink blush
9. Makeup Brush
How to Get a Perfect No Makeup look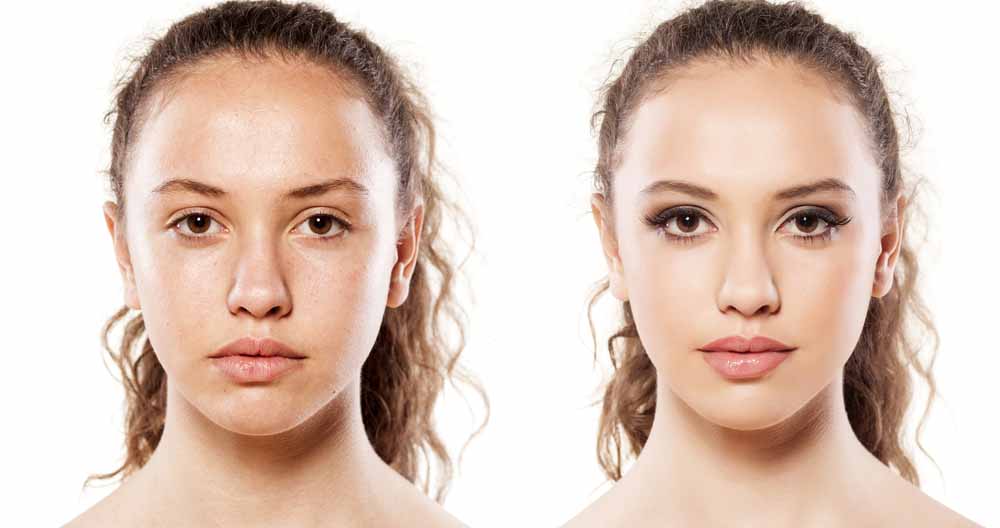 First, wash your face thoroughly. Then lightly draw the eyebrows with an eyebrow pencil. You can draw on the eyebrows with a dark brown eyebrow pencil for a slightly different look. Apply moisturizing lotion on the skin. Then apply a liquid foundation on the cheeks, forehead, nose, and chin and mix well with a brush. Mix in such a way that no spots remain. After applying well, apply the foundation again. Now apply one shade less foundation on the skin than the previous one. After that, Massage it well on the face with a brush & apply concealer under both eyes.
Apply concealer one shade less than that and mix well with the brush. After completing your face makeup, curl the eyelashes, use mascara & lightly draw under the eyelids with an eye pencil. Don't make the eyeliner too dark. Apply the mascara on the lower leashes as well. Apply the chocolate bronzer lightly on the forehead, chin, and cheeks. Finally, cover both cheeks with a light pink blush. Avoid overusing blush. Now coat the lips in natural-looking lipstick. Look at the mirror, and your No-makeup look is done.
Things need to be remembered –
If you know the right way to do makeup, you will be glamorous in any makeup. Many people are busy just decorating their faces. But those who are eager to maintain a natural look do not forget to make up the face and the parts of the body that come out. In that case, one thing needs to be taken care of, the color of the face and the color of the body parts are not the same, so it is essential to do makeup with that in mind. You don't use the same concealer and foundation on your others body parts that you use on your face. Use a tone that matches that skin tone.
I hope it will be beneficial for them. Heavy makeup can't go everywhere; it takes time and is uncomfortable to wear for a long time. So, you can do natural makeup by yourself according to your choice, skin color, and look. By following these tips, you can easily do a no-makeup look.
Another vital thing to remember is that if you can take a light nap before going out and after applying makeup, the makeup will sit very nicely. Taking hot therapy on the face before applying makeup is beneficial. The skin can well absorb these factors.
Young women easily fall in love with the no-makeup look. Since the no-makeup look is not too heavy, many do this makeup before going out every day. But remember that doing a no-makeup look every day is not suitable for your skin.
Even though it is a no-makeup look, the makeup is still on the skin. So regular no-makeup makeup does the same damage as regular makeup does. It can lead to acne, dryness, allergies, dark spots, and wrinkles.
No. Whether it is havey or no makeup, every day is not suitable for the skin. I suggest you to buy a good quality, no-makeup makeup kit to reduce the chance of skin damage. Besides, you must apply cleanser-toner-moisturizer to the skin before returning home and going to bed.
Also read: