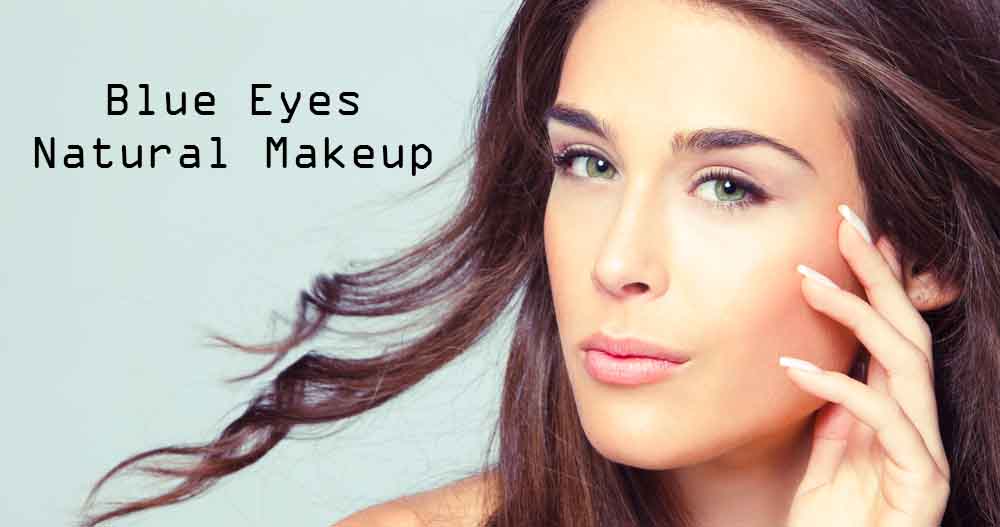 Natural eye makeup look refers to eye makeup not decorating the eyes too much. Eye makeup is done only with kajal and mascara. The main purpose of this makeup is to make the eyes look natural and not over-dressed. Many people also use nude eyeshadow with eyeliner and mascara. A natural eye look aims to present yourself naturally, which is one of this outfit's aspects. Girls usually use a natural eye look in office-court or school-college for a formal look.
The eyes are one of the most attractive parts of the whole face. Blue eyes are rightfully considered rare and beautiful because only a special gene gives such a unique color. An interesting fact is that 8-10% people in the world has blue eyes. It is similar to blue but contains more saturated pigments. Girls with blue eyes need to know what tones can match them. That is why eye makeup is always given importance in dressing. But why does eye makeup seem so difficult? Do you want to make your blue eyes look natural and more attractive quickly? It is enough to follow some rules. To avoid mistakes in doing eye makeup on blue eyes, you can read this article.
How to do Natural Makeup for Blue eyes?
Here are the simple steps to follow to do a perfect natural makeup for blue eyes-
1. Draw your Eyebrow in Right Shape
Eyebrows should be drawn perfectly to make the eyes appear correctly to get a natural look. No matter how much work is done on the eyes, it will all go wrong if the eyebrows are not drawn in the right shape. So, to get a natural look for blue eyes, you must be careful about the looks of your eyebrows.
2. Hide Swelling of the Eyes
If there is puffiness in the area around the eyes, no makeup will make the eyes look beautiful. Lack of sleep causes eye puffiness. So try to remove eye swelling. It will give your eyes a naturally attractive look.
3. Hide Dark CIrcles
Dark circles under the eyes should be removed with the help of concealer at the beginning of eye makeup. Otherwise, kajal or eyeliner will make the eyes look black. To get a natural look for your blue eyes, you should be careful about it.
4. Use Natural-Colored Eyeshadows
Dark-colored eyeshadows are preferred by many blue eyes people, but eyeshadows that match the skin tone are what make the eyes attractive. A different shade of eyeshadow that matches your skin tone can also help make your eyes look bigger & get a natural eye look.
5. Use Kajal on the Lower Part of the Upper Eyelid
While kajal is often used on the lower eyelid waterline (eyelids), kajal is rarely used on the upper waterline. On the contrary, it makes the eyes look attractive, beautiful, and natural.
6. Nude kajal for under eyelids
Black kajal should be used on the water line of the upper eyelid, and nude color or white kajal should be used on the water line of the lower eyelid. It will make your blue eyes more natural & attractive.
7. Experiment & Craftsmanship in Eyeshadow
After using the natural-colored eyeshadow, the outer corner of the eye (crease) should be blended with a dark or black shadow. At the same time, the inner part of the eyes should be highlighted with glittery shadows. It will help make your blue eyes more highlighted & attractive.
Natural Peach & Bronze Eye Look Makeup for Blue Byes
Following today's makeup tutorial, you can achieve this look on your eyes at home using just five ingredients. To get the look, you need concealer or primer, light peach, bronze (or eye shadow matching your dress), golden color eye shadow, dark kajal, eyeliner, and mascara.
1. First, clean the eyes and apply concealer or primer on them.
2. Then make the base of the eyes with a light peach color eyeshadow on the eyelids to match the dress.
3. Apply golden eyeshadow over it.
4. This time, you can blend a little deep coffee in the outer corner of the eye or an eyeshadow color matching your dress.
5. Then thickly cover your eyes with dark kajal liner.
6. Finally, apply the mascara on the eyelashes and wait until it dries.
7. Now set it with Kajol's thick liner.
Natural Pink & Brown Eye Look Makeup for Blue Eyes
1. First, apply a very light brown shadow to the entire eyelid.
2. Then apply the soft pink shadow from the crease of the eye to the lash line.
3. Blend well with a brush.
4. You can also blend with your fingers if you want.
5. Now apply purple or mauve eyeshadow along the lashline as if you were wearing a liner along the eyeliner.
6. Wing slightly outwards.
8. Now blend the entire eyeshadow well.
9. Apply eyeliner and mascara after applying eyeshadow.
10. You can wear black eyeliner and mascara.
11. Or you can use purple shade eyeliner if you want.
12. Then wear nude pink shade lipstick because it goes well with your eye looks.
Eyeshadow Shades for Blue Eyes
Blue eyes might look different depending on the makeup color, so try out several palettes to discover the one that works best. Here we suggest 4 Eyeshadow Shades to Highlight Blue Eyes. So it would be best if you tried them-
1. Orange Eyeshadow: Orange tones are the opposite of blue on the color wheel, so highlighting blue eyes with orange makeup is fabulous. Orange tones won't overpower or conceal the hue of blue eyes, in contrast to certain darker makeup hues. Some gold eyeshadows have an orange undertone, so think about adding a layer of shimmering gold for a dramatic look.
2. Blue Eyeshadow: If your blue eyes have a grey undertone, use a silver shimmer eyeshadow with light blue eyeliner to create a daytime or nighttime appearance. Play around with the hues, combining paler blue eyeshadows on the inner corners and darker blue ones on the outer corners of your eyes.
3. Matte Eyeshadow: The fact that matte eyeshadows smoothly blend into the texture of your skin makes them ideal for daytime looks. Try using brown colors that closely resemble your skin tone to match your makeup to your complexion. Blend light colors of matte beige and brown eyeshadow for a natural look since gentle brown tones enhance blue eyes.
4. Green Eyeshadow: The color of your eyes can change from blue to green depending on the lighting conditions. Darker, more vibrant greens like emerald green may be overpowering, whereas lighter greens like turquoise and teal compliment blue eyes. Use a soft green eyeshadow to give your eyes a hint of green.
Read more: